This is the recipe I'm going to make for company dinner on Sunday.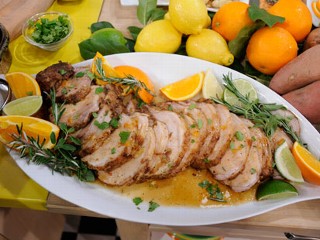 From the kitchen of Emeril Lagasse
|
Servings: 6-8
Difficulty: Easy
Cook Time: 30-60 min
The combination of orange and cumin give this pork a tasty flavor. Enjoy it with the grilled sweet potato salad.
Ingredients
One 3 1/2-pound boneless pork loin
2 tablespoons olive oil
1 tablespoon kosher salt
1 1/2 teaspoons ground cumin
1 1/2 teaspoons freshly ground black pepper
1/2 cup freshly squeezed orange juice
1/4 cup freshly squeezed lime juice
1/4 cup white wine vinegar
2 tablespoons orange marmalade
2 tablespoons chopped fresh cilantro
Cooking Directions
Preheat the oven to 400 degrees F.
Heat a large skillet over medium high heat. Rub the pork loin well on all sides with the olive oil, and season it with the kosher salt, cumin, and black pepper. Place the pork loin, fat side down, in the skillet and cook, turning occasionally, until well-browned on all sides, 10 to 12 minutes. Remove the pork from the skillet and place it in a small roasting pan or baking dish that holds it snugly.
In a medium bowl, combine the orange juice, lime juice, vinegar, and marmalade, and whisk well to combine. Drizzle the citrus mixture over the pork.
Place the roasting pan in the oven, and cook until the pork reaches an internal temperature of 140°F, basting the pork with the pan juices occasionally. (Take care not to overcook the pork.) Should the pan juices evaporate and begin to scorch before the pork is done, add a bit of water to keep it from burning.
Remove the pork from the oven, add the cilantro to the roasting pan, and swirl it in the pan juices. Allow the pork to rest for 7 to 10 minutes before slicing. Serve the pork thinly sliced, drizzled with pan juices.
Recipe courtesy Emeril Lagasse, courtesy MSLO, Inc.