We wanted to leave at 8:00 this morning but as of last night, looking at what needed to be done yet, it didn't look likely.
However , I got up at 5:30 and Larry was already up (for 2 hrs) so we just got out of bed and started to get ready. Good thing too because we were able to leave by 7:45.
First rest stop
It's almost 4:30 and we're on 81 passing through WV.
Now it's 4:55 and we passed through Maryland quickly and now we're in sunny PA.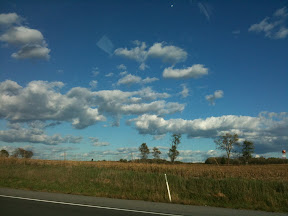 Good chance we might just keep going till we're home. Can't believe it will be dark in 1 1/2 hours.
- Posted from my iPhone