Today was my day to be energetic. I went to Yoga in the morning and then we played golf in the afternoon. It was a beautiful Fall day and felt so good to be out in the fresh air with the turning color of the trees and clear blue sky.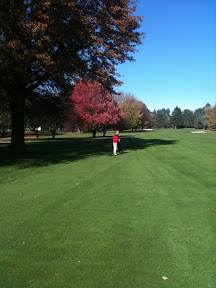 When we came home, we made a delicious salad for dinner using canned salmon, goat cheese, raspberries and sunflower seeds in addition to all the other veggies.
After dinner I made a cranberry apple compote. It's part of my ongoing creation of healthy, non-sugar fruit desserts. I like it with some ice cream, or on oatmeal in the morning, or just by itself.
Cranberry Apple Compote
12 oz bag cranberries
8-10 or more Assortment of apples
1 cup water
Rinse cranberries
Bring water to boil and add cranberries.
Simmer for 10 minutes.
Meanwhile, peel, core and slice apples. Microwave covered for 10 minutes
Combine cranberries and apples with 1 cup Splenda or sugar (if you prefer)
Put in dish or container and refrigerate.
- Posted from my iPhone